Internship Program
Background
In the summer of 2001, the agency established a year-round internship program for both college and law school students. College interns assist with investigations, community outreach, and other projects in the office, while law school interns perform legal research on various policy issues. Interns volunteer their time and receive academic credit for their work during the academic year. Over the summer, budget permitting, interns receive a salary for full-time work. OPC's internship program has been an excellent way for the agency to stretch its limited budget by engaging talented students in the agency's work, while giving them valuable practical experience in exchange. The program has also been a valuable recruitment tool for the agency, with two former interns currently employed by the agency as investigators.
Since the internship program began, the agency has attracted many outstanding students. The college students have come from a variety of schools, including American, Frostburg State, George Mason, George Washington, Harvard, Howard, Niagara, Santa Clara, Southern Methodist, and Temple universities, the University of the District of Columbia, the University of Maryland, the John Jay College of Criminal Justice, St. Mary's College of Maryland, and St. Mary's College of California. The law students have come from American University's Washington College of Law, Catholic University of America's Columbus School of Law, Fordham Law School, the Georgetown University Law Center, George Washington University Law School, Howard University School of Law, Northeastern University School of Law, and the University of the District of Columbia's David A. Clarke School of Law. The internship program has provided substantial benefits to OPC and the District, and the office plans to continue hiring interns during each semester and the summer.
Available Internships
The Office of Police Complaints internship program gives undergraduate and law school students the opportunity to advance professionally and academically by learning about and working in a developing area of civil rights protection - police accountability and oversight. There are three types of internships available:
General Requirements
Undergraduate interns and law clerks should have strong research, writing, and interpersonal skills, and be able to work with diverse populations. Courses in government, journalism, political science, communications, public policy, civil rights, public relations, and criminal justice are viewed favorably, as are foreign language skills (especially Spanish, Chinese, and Vietnamese). Law clerks also should have strong legal research, analysis and writing skills, and be familiar with electronic legal research databases. OPC's summer law clerk program is open only to second-year law students.
Advantages of Office of Police Complaints Internship Program
Academic credit or a stipend for internships (Stipends are available during the summer only, when funds are available.)
Opportunities to relate coursework to on-the-job experiences
Opportunities for mentoring from experienced staff members
Extensive and comprehensive in-house training, as well as encouragement of ongoing educational and professional growth
Networking opportunities with representatives of government, law enforcement, and nonprofit agencies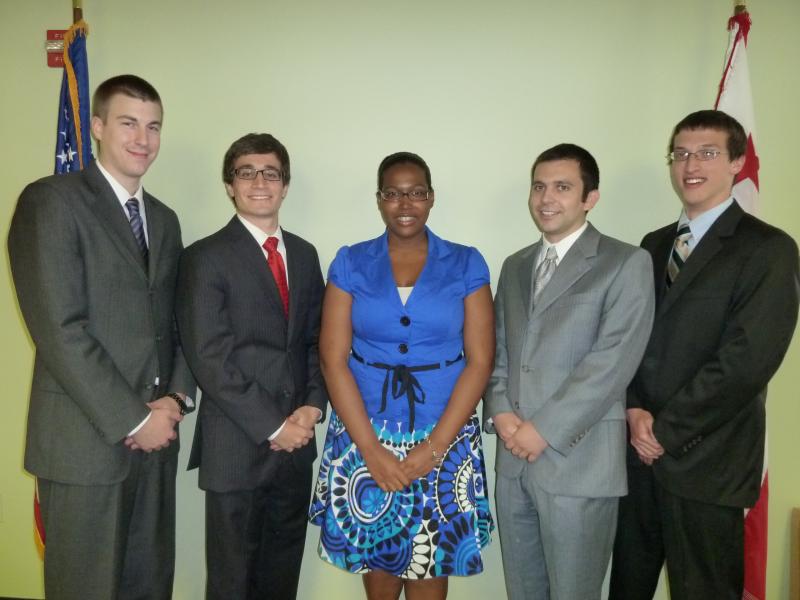 Summer 2011 Interns (left to right) – Jonathan Trevarthen, Michigan State University College of Law; Garrett Schuman, Georgetown University; Andrea Daniels, graduate of Marymount University; Zachary Pyle, New York University School of Law; Miguel Boluda, Stanford University.