File a Police Complaint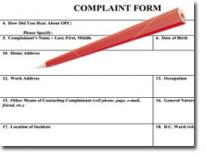 The Office of Police Complaints provides a variety of ways to make a complaint. With any of the methods below, you must complete and sign a complaint form in order for us to pursue the matter.
It is very important that you file your complaint as soon as possible so that, if necessary, photographs can be taken and medical records obtained quickly. Before you file your complaint, you should make a photocopy of it for your personal records. A complaint must be received by the Office of Police Complaints within 45 days of when the incident occurred.
The Office of Police Complaints has some bilingual staff members and can arrange for interpreting and translating services, including sign language, where necessary.
How to File a Complaint
By Phone
Call the Office of Police Complaints at (202) 727-3838, and a trained investigator will guide you through the complaint process. You will receive a complaint form by mail, which you must complete, sign, and return to OPC within 45 days of the incident leading to the complaint.
Toll-Free Hotline
The Office of Police Complaints' toll-free hotline, (866) 588-0569, allows citizens to report complaints 24 hours a day, seven days a week. During the agency's normal hours of operation (Monday through Friday, 8:30 am to 5 pm), an OPC investigator will be available to take complaints and answer questions. When the office is closed, callers may leave a voicemail message, and an OPC investigator will contact them during the next business day.
By Fax
Fax a completed, signed complaint form to (202) 727-9182.
In Person
You also can file a complaint by visiting OPC's offices. This will allow an investigator to interview you personally and to help you fill out the complaint form thoroughly. You may also send a complaint form detailing the incident to the Office of Police Complaints at 1400 I Street, NW, Suite 700, Washington, DC 20005. Forms are available from the Office of Police Complaints and from all police district stations.
At a Police Station
You may place a complaint with the MPD. If your allegation falls within the authority of the Office of Police Complaints, the police station will forward the complaint to the Office of Police Complaints for investigation.
By Letter
Send Office of Police Complaints a letter detailing the incident. Please be sure to include your address and your daytime and evening telephone numbers so that we may contact you for additional information, if necessary. Although you may lodge complaints by letter, you will still have to complete and sign an official complaint form in order for us to pursue the matter.
When to File a Complaint
Any person can file a complaint with the Office of Police Complaints when a police officer abuses or misuses police powers. The complaint can be based on any of the following:
Harassment
Use of unnecessary or excessive force
Use of language or conduct that is insulting, demeaning or humiliating
Discriminatory treatment based upon a person's race, color, religion, national origin, sex, age, marital status, personal appearance, sexual orientation, family responsibilities, physical handicap, matriculation, political affiliation, source of income, or place of residence or business
Retaliation against a person for filing a complaint with the Office of Police Complaints
Failure to wear or display required identification or identify oneself by name and badge number when requested to do so by a member of the public
The MPDC will continue to handle other types of citizen complaints. To print a copy of the form, download a Complaint Form.
Any parent or guardian can file a complaint on behalf of a child. The Office of Police Complaints will want to interview the child as part of the investigation
Commendation
The primary goal of the Office of Police Complaints (OPC) is to investigate and resolve allegations of police misconduct against MPD and OPS officers. However, the agency is also charged with reducing tension between police and the public by fostering increased communication and understanding. Consistent with this goal, OPC offers citizens the opportunity to commend officers who do exemplary work servicing the public.

If you have witnessed an officer doing something that deserves praise and you would like to submit a commendation, you may fill out a commendation form on MPD's website.

Once completed, the commendation form will be sent by MPD to the officer's supervisor, shown to the commended officer, and placed permanently in the officer's personnel file. Please include as much of the requested information as possible so that the commendation can be received by the appropriate officer.