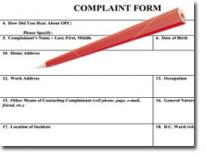 How to File a Complaint
The Office of Police Complaints (OPC) provides a variety of ways to file a police misconduct complaint. A completed, signed complaint form must be received by OPC within 45 days of the date of the incident. For information on what types of complaints OPC investigates, download the agency brochure at www.policecomplaints.dc.gov.
Complaint forms can be obtained by any of the methods below:
Online at www.policecomplaints.dc.gov
In person at OPC's office located at 1400 I Street, NW, Suite 700
By phone at 202-727-3838, Monday-Friday, 8:30 am - 5:00 pm
Calling OPC's 24-hour, toll-free hotline at 866-588-0569
At any Metropolitan Police Department (MPD) district station [MPD will forward the complaint to OPC]
Complaint forms can be submitted:
In person or by mail to the address above
By fax to (202) 727-9182
By dropping forms off at any MPD district station
You can also contact or pick up a complaint form and/or brochure at one of our Community Partner locations listed below:
American Civil Liberties Union of the Nation's Capital
www.aclu-nca.org
(202) 457-0800; info@aclu-nca.org
D.C. Anti-Violence Project
www.dcavp.org
2000 14th St., NW, Suite 105


(202) 682-2245; info@glovdc.org


Greater Washington Urban League
www.gwul.org
2901 14th St., NW
(202) 265-8200
Office on Asian Pacific and Islander Affairs
www.apia.dc.gov
441 4th St., NW, Suite 721 North
(202) 727-3120; oapia@dc.gov
Office of Gay, Lesbian, Bisexual and Transgender Affairs
www.glbt.dc.gov
2000 14th St., NW, Second Floor
(202) 727-9493; glbt@dc.gov

Office on Human Rights
www.ohr.dc.gov
441 4th St., NW, Suite 570N
(202) 727-4559; ohr@dc.gov
Commendation
The primary goal of OPC is to investigate and resolve allegations of police misconduct against MPD and OPS officers. However, the agency is also charged with reducing tension between police and the public by fostering increased communication and understanding. Consistent with this goal, OPC offers citizens the opportunity to commend officers who do exemplary work servicing the public.
If you have witnessed an officer doing something that deserves praise and you would like to submit a commendation, you may fill out a commendation form on MPD's website.
Once completed, the commendation form will be sent by MPD to the officer's supervisor, shown to the commended officer, and placed permanently in the officer's personnel file. Please include as much of the requested information as possible so that the commendation can be received by the appropriate officer.