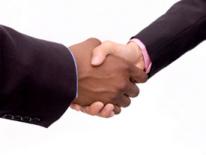 The Office of Police Complaints' complaint process includes mediation as a method for resolving complaints and, because Office of Police Complaints firmly believes in the benefits of mediation, appropriate complaints are forwarded to mediation on a regular basis. Mediation allows the complainant and the subject officer to meet face-to-face to attempt to resolve the issues raised in a complaint. The goal of the Office of Police Complaints' mediation program is to give both parties a chance to work together to achieve a mutual understanding of what happened during their interaction and work out their differences without the stress and expense of a formal investigation and hearing.
A mediation service, the Community Dispute Resolution Center (CDRC), administers the Office of Police Complaints' mediation program, assigning complaints to be mediated by a pool of well trained, experienced, and diverse mediators. There is no cost to the complainant or the subject officer to participate in mediation, but both parties must sign a confidentiality agreement that provides that anything said by either party during the mediation session will not be disclosed outside of the session. The confidentiality agreement is required to encourage parties to be honest and open in attempting to resolve the dispute.

The decision to refer a complaint to mediation is made by the executive director, and not by the parties. If the executive director refers a complaint to mediation, both the complainant and the subject officer are required to participate in the mediation in good faith. Failure to participate in good faith constitutes cause for discipline of the subject officer and grounds for dismissal of the person's complaint.

There are some restrictions as to which complaints may be referred to mediation. The Office of Police Complaints' will not refer complaints involving allegations of the use of excessive or unnecessary force that result in physical injury. In addition, an officer may not mediate a complaint if he or she has mediated a complaint alleging similar misconduct or has had a complaint sustained by the Office of Police Complaints for similar misconduct in the past twelve months.
Mediation Examples in Each Year