(Washington, DC) The Office of Police Complaints (OPC) recently welcomed its newest class of interns, who will be working for the agency during the summer of 2006.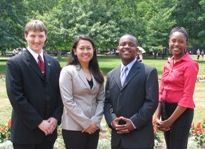 Summer 2006 Interns (left to right): Phillip Bach, Fordham University School of Law; Carol Jun, Northeastern University School of Law; Zachary Tobias, Temple University; and Dominique Winters, Howard University.
Since the internship program began, it has been an excellent way for OPC to involve both college and law students in the work of the agency, and it has also served as a valuable recruiting tool for OPC. Currently, the agency has two former interns on its investigative staff.
OPC's internship program provides opportunities for students year-round to gain practical experience, while receiving academic credit for their work during the school year and a salary for their full-time work during the summer, budget permitting.
Interns are able to gain a wealth of knowledge and skills through the program because they are given the chance to learn about and become involved in many of the agency's activities. College interns assist with investigations and community outreach, while law school interns perform legal research and analysis on police reform.
"We have been fortunate to attract a number of talented students from not only the Washington-area schools, but also from schools around the country," said Philip K. Eure, OPC's executive director. "The intern program has been good for the District of Columbia, good for the students, and good for the field of police oversight."
Through the summer of 2006, over 40 college students and 15 law student have participated in OPC's internship program.
For information about internship opportunities at OPC, visit the Internship Opportunities web page below, or contact the agency's administrative officer, Stephanie Banks, at (202) 727-3838.