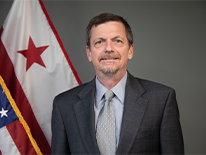 Michael G. Tobin was appointed OPC's executive director in November 2014. Prior to joining the agency, Mr. Tobin served as the executive director of the Milwaukee Fire and Police Commission, where he oversaw the Commission's work in a range of functions, including the initiation and implementation of police policies and procedures, conducting independent investigations of misconduct allegations, ensuring internal investigations are conducted appropriately, and providing mediation between citizens and fire or police department employees.
Mr. Tobin began his career with the City of Milwaukee, Wisconsin as a police officer, and upon graduation from law school he joined the Milwaukee City Attorney's office as an assistant city attorney. There, he was a police legal advisor, guided internal affairs investigations, prosecuted police employees for misconduct, and represented the city's interests in police department litigation for almost 20 years in state courts and administrative agencies.
Mr. Tobin is a former Army National Guard Colonel and in 2005 he was appointed Rule of Law Officer to manage the U.S. military program to reconstruct the civilian justice system nation-wide for the country of Afghanistan. Mr. Tobin is a member of the District of Columbia Bar and State Bar of Wisconsin. His current board appointments include positions with the Mayor's Office of Veteran's Affairs, Metropolitian Police Department Officers Standard and Training Board, and the Metropolitian Police Department Use of Force Review Board.
Mr. Tobin received his bachelor's degree from the University of Wisconsin-Milwaukee and his law degree from the University of Wisconsin-Madison.